SEAMEO RIHED- JANU MOU Signing Ceremony
9 February 2018
Tokyo, Japan
On February 9 2018 in Tokyo, Japan, a Signing Ceremony for the Memorandum of Understanding (MOU) between SEAMEO RIHED and the Japan Association of National Universities (JANU) was held to promote exchange and cooperation in higher education. More specifically, the MOU sets the direction for future cooperative relations between SEAMEO RIHED and JANU in the field of higher education. After the Signing Ceremony, an exchange of views and opinions regarding future collaboration was held between representatives of JANU and SEAMEO RIHED.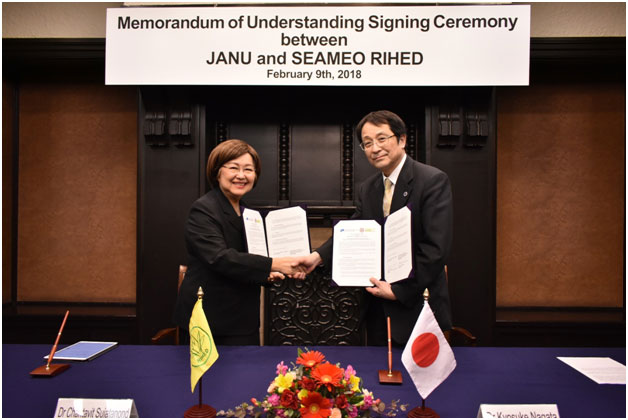 Dr. Chantavit Sujatanond, Centre Director, SEAMEO RIHED and Vice President and Chairperson of International Exchange Committee, JANU, Dr. Kyosuke Nagata
The Signing Ceremony was attended by 6 representatives of JANU including President Juichi Yamagiwa (President, Kyoto University), Vice President Seiichi Matsuo (President, Nagoya University), Vice President and Chairperson of the International Exchange Committee Kyosuke Nagata (President, Tsukuba University), Vice President Kimiko Murofushi (President, Ochanomizu University), Senior Managing Director Kenji Yamamoto and Managing Director Masato Kitani as well as 2 representatives of SEAMEO RIHED, Dr. Chantavit Sujatanond, Centre Director, and Philip Masterson, Programme Officer.
.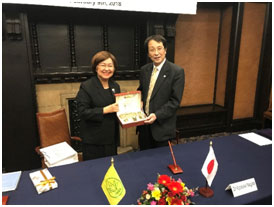 Together with JANU, SEAMEO RIHED looks forward to a productive and beneficial partnership based around common goals of promoting cooperation in higher education and expanding exchange between Japan and the Southeast Asian region.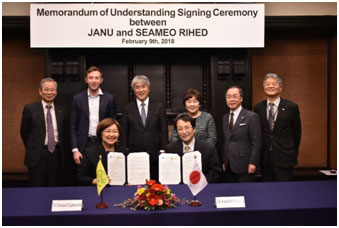 Group Photo