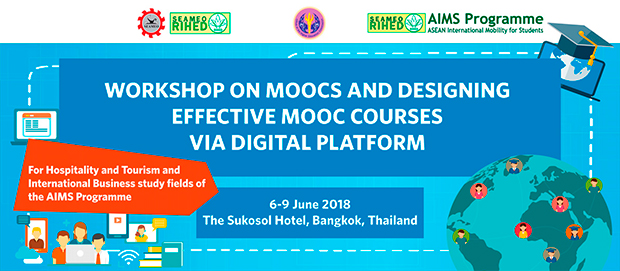 Workshop for the AIMS Programme:
MOOC and Designing Effective MOOC Courses via Digital Platform
The Southeast Asian Ministers of Education Organization Regional Centre for Higher Education and Development (SEAMEO RIHED), with the support from the Office of the Higher Education Commission (OHEC), Thailand, will be organising the Workshop for the AIMS Programme: MOOC and Designing Effective MOOC Courses via Digital Platform on 6-9 June 2018, at The Sukosol Hotel, Bangkok, Thailand.
The workshop is intended for the AIMS Programme Hospitality and Tourism university consortia and interested participants from the International Business university consortia. Participants will gain essential skills in administering e-Courses and have the opportunity to collaborate on the e-Learning for the AIMS Programme. The outcomes from the Workshop will also be shared at the 12th AIMS Review Meeting in Vietnam in late 2018.
Workshop outline:
1. Everything You Need to Know about MOOC
a.MOOC : What, Where, When, Why and How2
2. Design Effective Pedagogical Approaches for MOOC: ISD Model and Design Template
a. ADDIE Model Revisited
b. MOOC-based Learning Process Design Template
3. MOOC Hands-on Activities
a. Experience with Digital Platform
4. New Media Development and Integration
5. Learning Assessment on MOOC
As the workshop's key benefits, after the workshop, participants will be able to:
1. Gain a working knowledge on what MOOC is
2. Gain a practical understanding of ADDIE Model
3. Design and develop MOOC courses via Digital Platform (MOODLE) to meet learning goals
4. Acquire hands-on skills on learning media creation tools
The organisers will be providing the training course, lunch and meeting package for the duration of the Workshop for the participants. Participants are kindly requested to cover the costs of international travel, accommodation and airport transfer and to bring their own laptops.
Downloads:
Concept Note
Tentative Programme (as of 24 May 2018)
Administrative Note
Registration Form (Hospitality and Tourism)
Registration Form (International Business)
Pre-Workshop Assignment
When: 6-9 June 2018
Where: The Sukosol Hotel, Kamolporn 1-2
Registration deadline: 25 May 2018
Contact:
Ms. Supansa Kajavong (Pink), Programme Officer
E-mail: supansa@rihed.seameo.org
Tel: +66 2644 9856-62 ext.106
Ms. Thanthakorn Phuangsawat (Fon), Administration and Communication Manager
E-mail: thanthakorn@rihed.seameo.org
Tel: +66 2644 9856-62 ext.101