The Project on Support for Capacity Building of the GMS University Consortium: Management and Leadership Development Workshop II and University Visit
11-13 March 2019 in Yangon, Myanmar
                On 11-12 March 2019, , the first GMS-UC activity of 2019, "Management and Leadership Development Workshop II" welcomed university leaders and government representatives from five countries: Cambodia, Lao PDR, Myanmar, Vietnam and Thailand at Inya Lake Hotel in Yangon, Myanmar with warmest and cordial hospitality of Department of Higher Education, Myanmar and East Yangon University.
| | |
| --- | --- |
| The honorable Deputy Director-general of Higher Education Department, Ministry of Education Myanmar, Prof. Dr. Nay Win Oo kindly graced the opening ceremony. | Dr. Chantavit Sujatanond was presenting a gift as the token of appreciation to Prof. Dr. Kyaw Kyaw Khuang, Rector of East Yangon University who generously assisted in arranging this workshop in Yangon |
This Workshop is part of the Project on Support for Capacity Building of the GMS University Consortium. The topics covered at this time were leadership, coaching and being coached, quality assurance process and higher education in the context of "Our World: Our Future". The workshop was aimed to enhance the potentials of member universities to be able to strategically envision the big picture and respond to the global and regional contexts of the 21st century.
The Keynote Address on "Our World: Our Future" by Dr. Jakarin Srimoon shared his perspectives and experiences on his "world" and his "Created Future." His world holds Integrity, Authenticity, Commitment to Bigger Value than Oneself, and Being a Cause in-the-Matter, being responsible for whatever action they take. Dr. Jakarin also highlighted another five facets in creating a "Created Future" for leaders: Building future from present context; fulfilling the relevant parties' interests (people you lead and your leader). Getting supported and acted by the people you lead; providing people you are leading an opportunity for self-expression; and an opportunity to personally make a meaningful contribution and realize the "created future."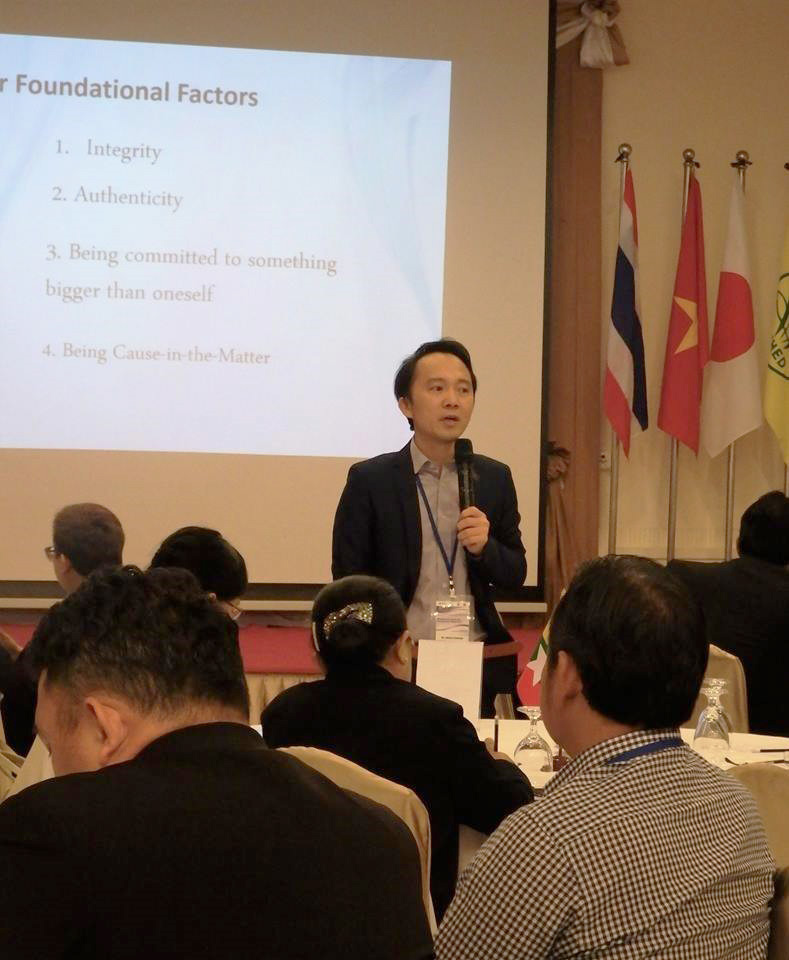 Keynote Address on "Our World: Our Future" by Dr. Jakarin Srimoon
Moreover, this workshop also provided the panel discussion and mini-workshop on "Coaching". Coaching Process is useful for people at all levels and the results can be ranged from improving the performance, gaining commitment to the organization engagement, enhancing one's potential, empowering people to do beyond their expectation.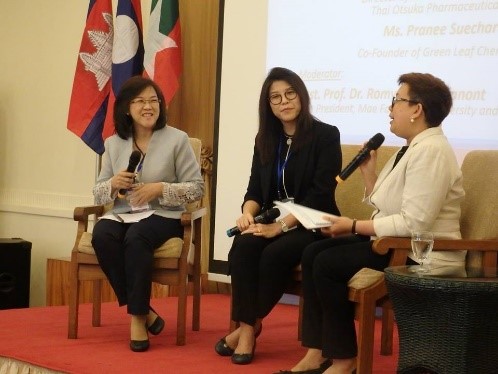 by Ms. Pornsuk Wangananon, Director of Human Resource Development, Thai Otsuka Pharmaceutical Company and Ms. Pranee Suecharoenkij, Co-Founder of Green Leaf Chemical shared experiences and perspectives on the panel "Voice from the Coached", moderated by Asst. Prof. Dr. Romyen Kosaikanont.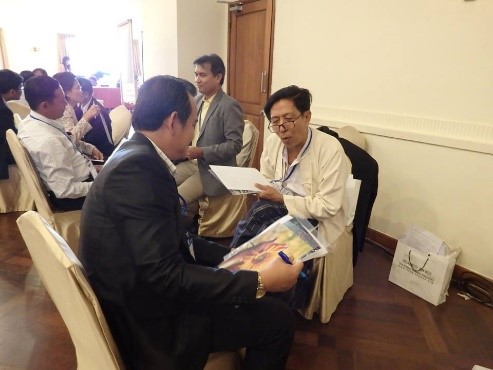 Mr. Ittipat Pattaramekanon led the workshop session on "Coaching"
On the second day of the workshop, there was a session on "Quality Unlimited" providing understanding and skill practices in quality assurance process. During the session, participants have learned to identify their institutional Quality Culture which can be varied according to each institution and self-definition. In quality assurance process, the issues of governance, management and leadership, finance as well as internal and external customers under the university vision need to be addressed.
Dr. Nandh Thavarungkul, Dr. Nakorn Srisukhumbowornchai and Asst. Prof. Dr. Preecha Termsuksawad from KMUTT together with our project's experts were running the workshop on "Quality Unlimited"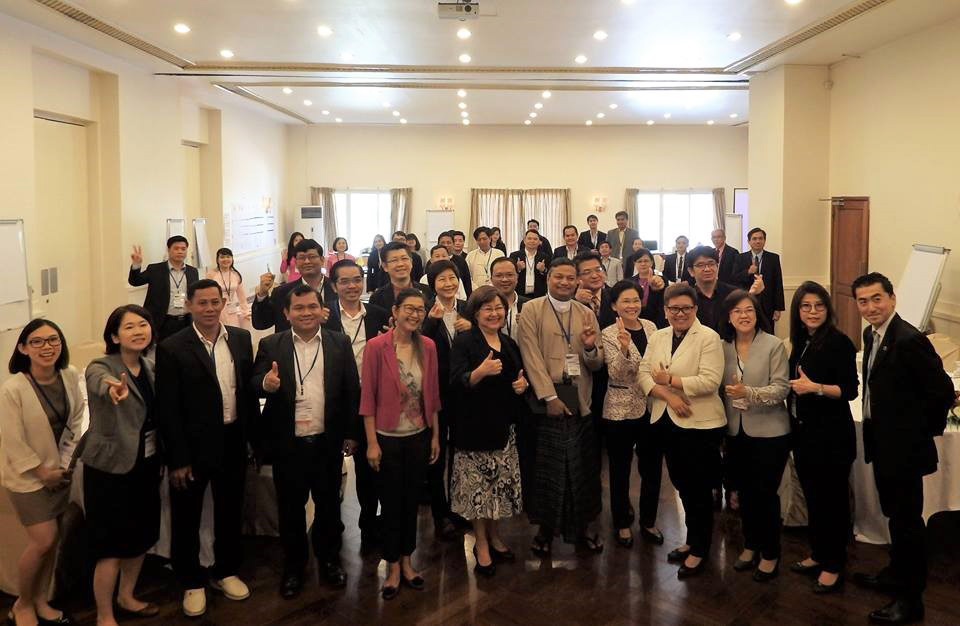 The workshop delegates from GMS-UC member universities and government representatives
SEAMEO RIHED would like to extend utmost thanks to guest speakers, experts for GMS-UC Projects and all distinguished participants for making such the successful workshop!
On the next day, 13 March 2019, the core experts for the GMS-UC Project and SEAMEO RIHED team led by Centre Director, Dr. Chantavit Sujatanond visited East Yangon University (EYU), one of the GMS-UC members in Myanmar. It was such a great pleasure having a fruitful discussion with Rector, Pro-Rectors, Deans, lecturers and students as well as touring to the Department of Geology, Department of Zoology, Human Right Resource Centre and library. The generous hospitality and tremendous enthusiasm of staffs and students was immensely impressive. We would like to express deepest gratitude to the Rector, Prof. Dr. Kyaw Kyaw Khaung and very able staffs of East Yangon University for such a wonderful welcome and excellent arrangement.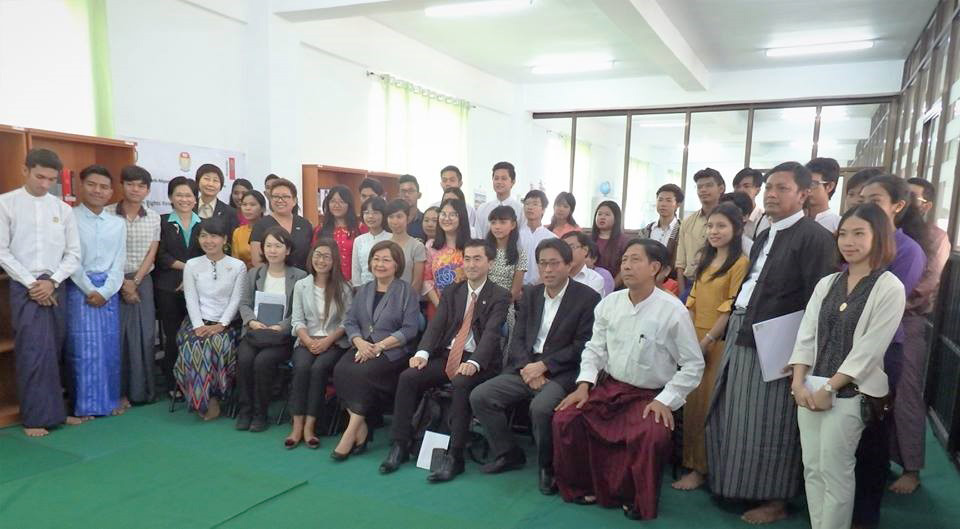 University Visit to East Yangon University (EYU)