Experts Meeting for the Academic Credit Transfer Framework for Asia (ACTFA)
12-13 December 2017
Pathumwan Princess Hotel, Bangkok, Thailand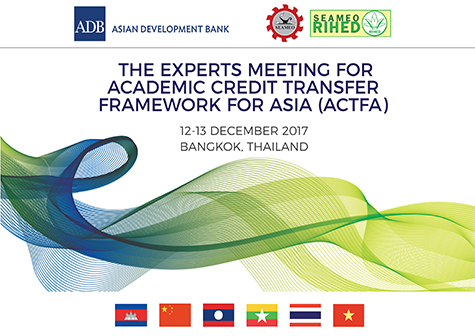 On 12-13 December 2017, SEAMEO RIHED organised the Expert Meeting for the Academic Credit Transfer for Asia (ACTFA) Project at Patumwan Princess Hotel in Bangkok, Thailand. The meeting was attended by representatives of higher education institutions of Greater Mekong Sub-region (GMS) University Consortium and respective governments, namely, Cambodia, P.R. China, Lao PDR, Myanmar, Thailand and Vietnam.
Marking the end of Phase II of ACTFA project, a project with the support of Asian Development Bank, the 2-day meeting shared the results of project activities and served as a venue to discuss a way forward for the GMS community to further work together to unite and harmonise higher education systems in the region. The meeting was collaboratively facilitated by SEAMRO RIHED and Prof. Dr. Taiji Hotta, Vice-Executive of International Planning, Hiroshima University, Japan.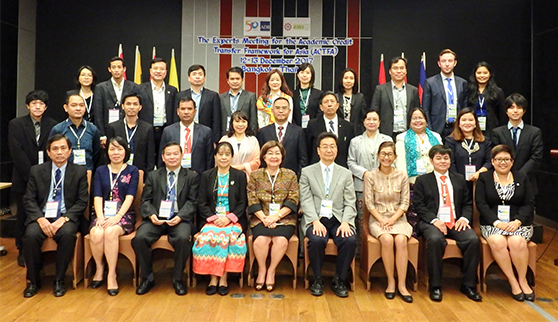 On Day 1, the meeting first briefed the project development and updates during the Implementation phase II: Experiment, which include the launch of GMS-UC, implementation of a series of technical workshops and capacity building workshops. The meeting, then, invited Prof. Dr. Taiji Hotta to share the results of project activities, disseminating data obtained from the past ACTFA workshops and focusing on issues and challenges regarding Mutual Recognition and Trust, one of the ACTFA Four Pillars. The session involved the brainstorming discussion, in which the participants were invited to share ideas to come up with a list of national priorities for building Mutual Recognition and Trust through strengthening three components: University Condition, Information Package and Syllabus.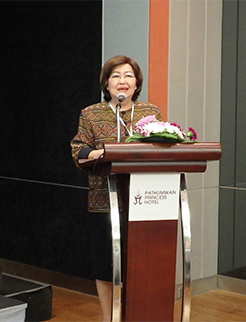 Dr. Chantavit Sujatanond, Centre Director of SEAMEO RIHED, gives the Welcoming Remarks to officially open the meeting
Following the interactive discussion, SEAMEO RIHED had the opportunity to share the result of surveys conducted on the member universities of GMS-UC during the ACTFA technical workshops in 2016. The presentation highlighted some of the findings obtained from the analysis of survey responses, addressing issues of the management of student mobility programmes and credit transfer.
| | |
| --- | --- |
| | |
| Prof. Dr. Taiji Hotta, Vice-Executive of International Planning, Hiroshima University, Japan, facilitates the discussion | The government and university representatives work together on developing national priorities |
Day 2 of the meeting began with the SEAMEO RIHED's presentation on the overview of the draft publication that consolidates project outputs, followed by the introduction of the ACTFA Reference Table. The meeting, then, invited Prof. Dr. Taiji Hotta once again to facilitate the interactive sessions that led the participants discuss how we, as the GMS-UC, can work together to improve and enhance essential components for achieving regionally harmonised higher education systems, including credit transfer system and other supporting mechanism at the institutional level.
Overall, the meeting facilitated the productive discussion and suggestions, bringing together inputs and reflection from the participants. We thank all of you for making the meaningful discussion happen.