Expert Meeting on Preparation of Operating Guidelines for GMS-UC Development project: Support for Capacity Building of GMS-UC (phase 1)

19-20 March 2018, Bangkok, Thailand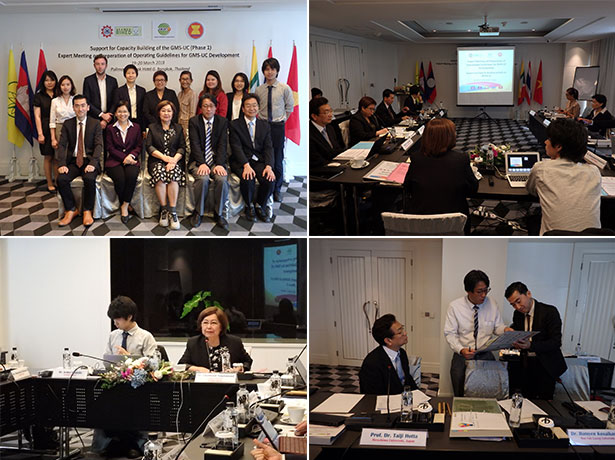 On 19-20March 2018, SEAMEO RIHED organised the Expert Meeting on Preparation of Operating Guidelines for GMS-UC Development project,Support for Capacity Building of the Greater Mekong Sub-region University Consortium (Phase 1),at Pullman Bangkok Hotel G in Bangkok, Thailand.The project was operated in cooperation with ASEAN Secretariat under the Japan-ASEAN Integration Fund (JAIF) Framework.
In this meeting, the attendees were regional and international professional experts in a sphere of higher education in Southeast Asian countries, particularly in the GMS, namely Prof.Dr.Taiji Hotta, Vice-Executive of International Affairs, International Center, Hiroshima University; Prof.Dr. Yasushi Hirosato, Director, Faculty of Global Studies/ASEAN Hub Center, Sophia University; Assoc. Prof. Dr. Nakao Nomura, Global Commons, University of Tsukuba; Ms. Porntip Kanjananiyot, Former Executive Director, TUSEF/Fulbright Thailand; Ms. LakhanaDockiao, Director, Bureau of International Coopration Strategy, Office of the Higher Education Commission; Dr.Romyen Kosaikanont, Vice President, Mae Fah Luang University; and Dr. Nandh Thavarungkul, Vice President for Quality Assurance, Office of the President King Mongkut's University of Technology Thonburi.
In the interactive meeting, the experts have discussed and distributed a variety constructive ideas as well asjointly developed initial activity guidelines, covering four main areas: University President/Rector Forum; Management Leadership Development Workshop; Harmonisation Workshop & Cross-border Education Workshop; and Teaching Capacity Development Workshop & Research Capacity Development. SEAMEO RIHED truly appreciated all of the participantsfor their dedication. The productive inputs and reflection given by them will be utilised for creating further constructive plan of GMS-UC project, aiming topromote harmonised higher education among the member countries.