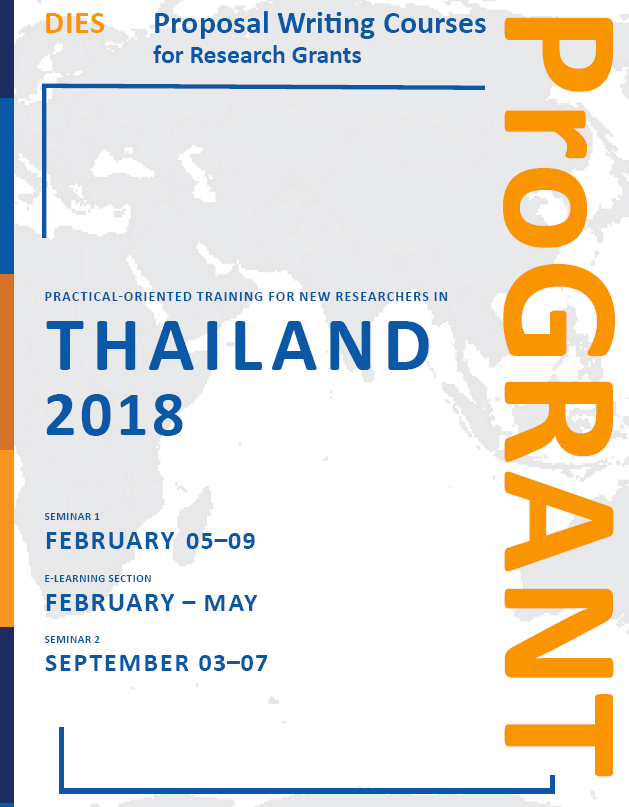 University of Cologne, DAAD and HRK in cooperation with local partners are happy to inform you that the Call for Applications for the next DIES- Training Course on Proposal Writing Courses for Research Grants: Practical-oriented Training for New Researchers in Thailand 2018 is out now. In order to receive as many qualified applications as possible we are kindly asking you to disseminate this information and the call as widely as possible amongst your networks and colleagues.
Course Dates:
| | |
| --- | --- |
| Seminar I: | February 5th – 9th, 2018, Thailand |
| E-Learning Module: | February – May 2018 |
| Seminar II: | September 3rd – 7th, 2018, Thailand |
The aim of DIES ProGRANT is to train researchers and young PhD holders in developing a promising proposal for national or international research funding (every participant will have the opportunity to tailor their application to the funding institution of their choice). Researchers from all disciplines can apply for this course. Each group will consist of 30 participants from the region. Because of its multicultural nature, DIES ProGRANT is also an effective tool for promoting international research and relationships.
Potential participants are researchers and PhD-holders from Thailand and Malaysia.
Selection criteria are that participants:
Must hold a doctoral degree or have equivalent research experience
Have an affiliation to an academic institution in the above mentioned countries
Possess excellent English language skills, both written and spoken
Be preferably at the beginning or middle stages of their research career.
30 participants will be selected according to the quality of their exposé and also based on regional and institutional profiles. Applicants will be given a final decision by early January 2018.
The costs for this training course will be mainly covered by funds of the DAAD (travel expenses, accommodation and meals, course expenses).
Participants and/or their home institutions are expected to cover local transportation in their home countries (for example: taxi to airport), visa costs (if applicable) and possible additional per diems for the stay in Thailand.
Deadline for applications is December 14th 2017, 11:00 pm German time.
For detailed information concerning the application requirements and process please see call for application attached and http://proposalwriting.globalsouth.uni-koeln.de.
Following the link under "Information for Applicants" you will find the Online Application Form, which will be available on November 13th2017.
Download file :
2018 ProGRANT Call Thailand