As we look back on the achievements of SEAMEO RIHED for the FY: 2015-2016, the Centre recently launched its 2015-2016 SEAMEO RIHED Annual Report summarising its accomplishments towards the harmonisation of higher education in Southeast Asia. Recalling a productive year, SEAMEO RIHED facilitated policy dialogues at the regional level that serve as platforms for higher education leaders to plan, review and discuss the development and harmonisation of regional higher education through the annual SEAMEO RIHED Governing Board Meeting (GBM) and the annual Meeting of Directors General/Secretary General/Commissioner of Higher Education (DGs/SG/CHE).
Covering the Five-Year Development Plan (2012-2017), the activities for the previous year were formed after four objective areas namely: empowering higher education institutions, developing harmonization mechanisms, cultivating globalized human resources and advancing knowledge frontiers in higher education system management. Programmes under the mentioned first objective area include study visits, seminars and capacity building activities to empower higher education institutions. For the second objective area aiming to develop harmonisation mechanisms, SEAMEO RIHED continuous to tap on regional quality assurance projects and academic credit transfer frameworks. Projects relating to academic mobility through the SEAMEO RIHED's ASEAN International Mobility of Students (AIMS) Programme, the Greater Mekong Subregion University Consortium (GMS-UC), and ASEAN-China Network for Cooperation and Exchanges among Engineering and Technology Universities (ACNET-EngTech)as well as SHARE scholarships are also pursued in cultivating globalized human resources as the third objective area. Lastly, in pursuant of the fourth objective area, research collaborations, forums and seminars on academic connectivity and mobility are conducted to advance knowledge frontiers in Higher Education System Management. As an additional milestone for the advancement of higher education in Southeast Asia, SEAMEO RIHED is also in the process of developing a database for a regional higher education information gateway.
In the act of progressing together with technological advancements, SEAMEO RIHED proudly introduces a video for a more comprehensive and engaging outlook on its accomplishments for the past year.
Annual Report 2015-2016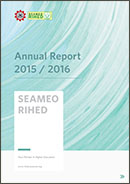 SEAMEO RIHED : Video