The 1st SEAMEO RIHED-JANU Seminar and Study Visit Programme to Japan
23-29 June 2019
Kansai Region, Japan
SEAMEO RIHED and the Japan Association for National University (JANU) have the pleasure to invite you to join the 1st SEAMEO RIHED-JANU Seminar and Study Visit to Japan on 23-29 June 2019!
With the theme on Technology Innovation and Social Engagement for Sustainable Development, the Seminar and Study Visit will provide participants with informative and interactive opportunities to discuss the roles as well as contributions of higher education institutions towards sustainable development and overcoming global challenges.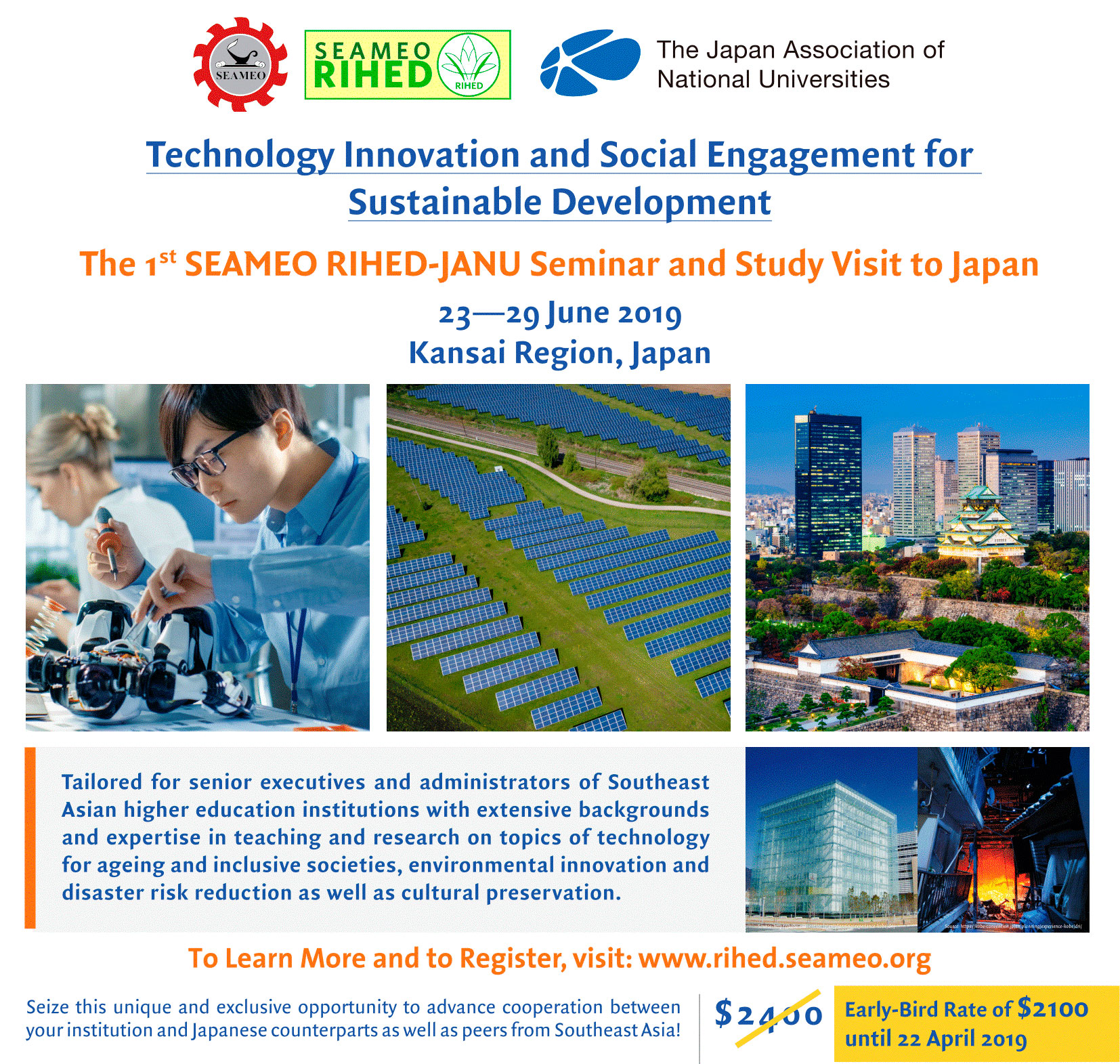 THE PROGRAMME
The tentative programme includes the following:
1) Seminar on "Enhancing Regional Cooperation and Development: Collaboration Initiatives between Japanese and Southeast Asian Higher Education Institutions"
Designed for academic leaders and university executives from both Japanese and Southeast Asian higher education institutions to exchange views on the theme, as well as to explore and build networks for future collaboration.
2) Institutional Visits to Leading Universities
Kansai University

Research Center for Medical, Pharmaceutical and Engineering Sciences

Research Center for Community Regeneration

Kobe University

Innovation in Advanced and Assistive Technology for Aging Societies and Disabilities

Innovative Bio Production

 Kobe Project

Kyoto University

Value Creating Design Hub for Super-Ageing Societies

Center for Southeast Asian Studies

Osaka University

Center for Information and Neural Networks

Section for Future Design, Center for Open Innovation Research and Education

Ritsumeikan University

Institute for Disaster Mitigation for Urban Cultural Heritage
3) A Special Visit to the Great Hanshin-Awaji Earthquake Memorial and private companies in the area of technological innovation
4) Guided Tours to Cultural Heritage Sites
Under the overarching theme of Technology Innovation and Social Engagement for Sustainable Development, the study visit will highlight the following areas:
Assistive Technology for Inclusive and Ageing Societies

Innovation for Environmentally Sustainable Societies

Disaster Preparedness and Management

Preservation of Cultural Heritage

Research Collaboration
WHO CAN APPLY?
The programme is tailored for university executives, administrators and faculty members from higher education institutions in Southeast Asia with an extensive background and expertise in teaching and research in topics of technology for ageing society, environmental innovation, disaster risk reduction and cultural preservation.
Seize this unique and exclusive opportunity to advance cooperation between your institution and Japanese counterparts as well as peers from the Southeast Asian region!
The group will consist of a maximum of 20 participants catered on a first-come, first served basis.
REGISTRATION FEE
Participation to the 1st SEAMEO RIHED-JANU Seminar and Study Visit to Japan is on a fee-paying basis. Payments made before 22 April 2019 will benefit from the early-bird rate of 2,100 USD while payments made after 22 April 2019 and no later than 3 May 2019 will be in the amount of the regular rate of 2,400 USD.
Registration Deadline: 3 May 2019
Early-Bird Payment Deadline (2,100 USD): 22 April 2019
Regular Payment Deadline (2,400 USD): 3 May 2019
This price includes:
Seminar Registration and Participation

Institutional Visits to Leading Universities

6 nights' Accommodation in Hotels with Breakfast

2 Official Dinners Hosted by the Organisers

Meals

Domestic Transportation in Japan

Guided-Visits to Leading Research Facilities, Industry and

 Unique Cultural Heritage Sites

English-Speaking guides

Printed Materials

A Certificate of Participation
Official Invitation letters may be provided by the organizers for visa application and other purposes upon request.
This price does not include:
Airfare

Airport Transfer to/from Kansai International Airport

Travel and Health Insurance

Visa Application Fees

Other Personal-Related Expenses
                              Register today until 3 May 2019!
ABOUT ORGANISERS
SEAMEO RIHED
The Southeast Asian Ministers of Education Organization Regional Centre for Higher Education and Development (SEAMEO RIHED) is the SEAMEO Centre specialising in higher education and development. Its main activities include training, research, and information dissemination with special focus on fostering efficiency and effectiveness of higher education policy and planning, management, and administration in SEAMEO Member Countries. Learn more about SEAMEO RIHED at http://rihed.seameo.org/.
JANU
The Japan Association of National Universities (JANU) aims to contribute to promoting national university cooperation and improving standards of higher education and academic research in Japan. To learn more about JANU, visit https://www.janu.jp/eng/.

CONTACT
For more information, please contact:
Kohei Yamada (Mr.)
Programme Officer
E-mail: kohei@rihed.seameo.org
Christelle Mae Agustin (Ms.)
Programme Officer
E-mail: christelle@rihed.seameo.org
SEAMEO RIHED Office
Email: rihed@rihed.seameo.org
Website: http://rihed.seameo.org/
Social Media (Facebook): https://www.facebook.com/seameo.rihed
Tel: +662 644 9856 – 62